| | |
| --- | --- |
| | Going Up |

| | |
| --- | --- |
| | Going Down |
| | |
| --- | --- |
| | This Level |

This page last edited on:
Saturday, November 16, 2002 11:06:32 AM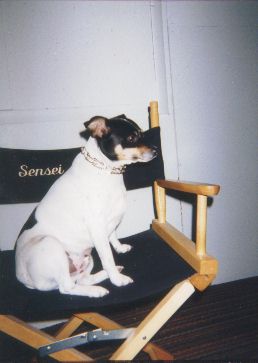 Hi my name is Rocky. I was born in a small shed at Bechner's Apple Orchard in Wellington, Missouri. My daddy's name was Sparky. My mom's name was Muffin. Let me tell you about the day my human family adopted me. Mr. Bechner, the old gent who owned the apple orchard and cared for my folks, greeted my prospective family and led them to my mom's birthing shed. I heard the door to my shed open and the old man pulled me up, up, out of the pen...he placed me on the roof of my dad's dog house. I was so excited that I jumped off, and landed right on my head. My prospective mom wasn't so sure she wanted me after that (damaged goods, ya know). But, luckily dad and sissy were impressed with my winning personality. Mom acquiesced (with reservation) to my adoption. The car ride home was great fun...I lay on my sissy's lap, pretending to sleep, while the humans debated on names. The originally agreed upon name was Zipper...Sure glad they finally decided to call me Rocky. "Rocky the Rattweiler", Yep....I think that was a good choice that fits my personality........................... More to come...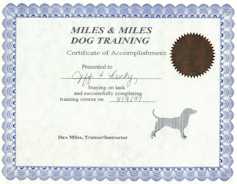 I received my Obedience diploma on August 9, 1997.
I was one day short of a year old. Not bad, huh!
Continued training is important, just ask my mom and dad!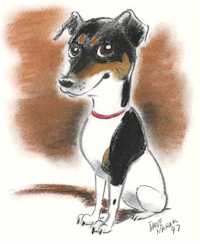 This caricature of me was made at Petfood Savemart.
I think it captures my essence, Don't you?