| | |
| --- | --- |
| | Going Up |
| | |
| --- | --- |
| | Going Down |
| | |
| --- | --- |
| | This Level |

This page last edited on:
Saturday, November 16, 2002 11:06:32 AM

Hello from Lebanon, MO. This is Rocky and Sassy's Rat Terrier home page. We now allow a Lab mix named "Hoss" to live with us, so we guess the site should be called "Rock-n-Sass-n-Hoss". That sounds German. We were here first, so we'll keep the "Rock-n-Sass" name. Here is a picture of the intruder: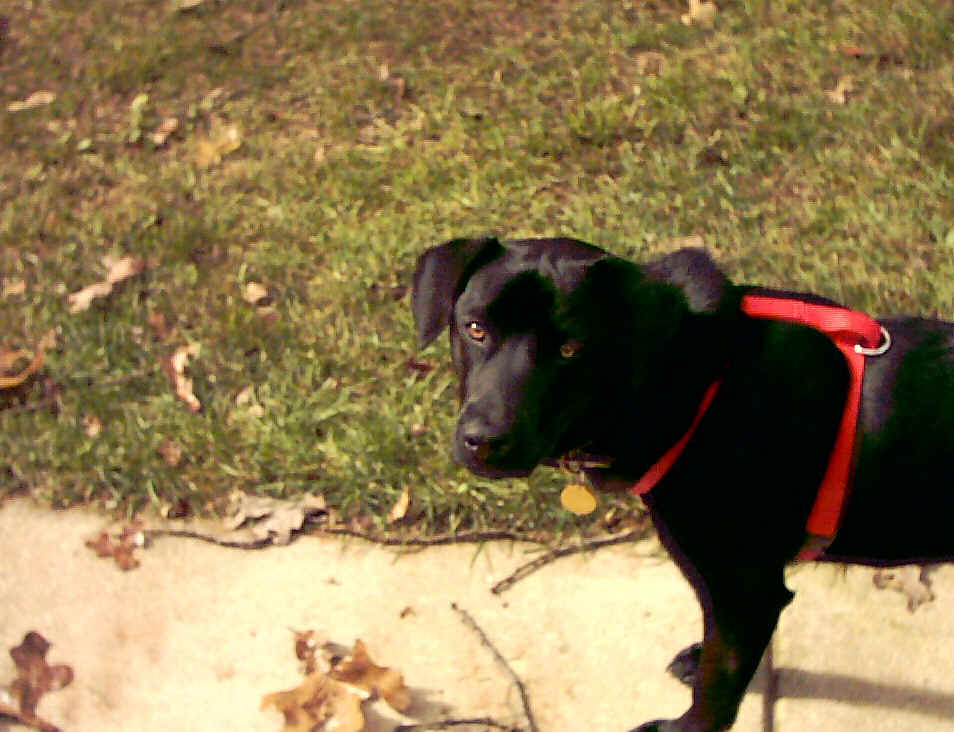 Rat Terriers used to be called Feists, hence the site name. Years ago, these dogs were found on farms all over the US. My grandfather had dogs that looked like modern Rat Terriers (Fido - Tippy), but he just called them "Terriers"; "dogs are just dogs", he said! He used them to hunt squirrels, rabbits and other assorted varmits. They also served as alarm dogs, ("booger dogs" as grandma called them... I guess you had to know Grandma to understand that!)
My father's family had a rat terrier on their farm. I have heard many stories of the hunting prowess of their little dog. I guess it is not a surprise that we chose Rat Terriers when the time came to get a pup!
While our dogs don't get to hunt much, they are our constant companions. We find them to be quite smart, very lovable and extremely strong-willed. They are not for everyone. I guess I am glad that they are not popular and not AKC.
Of course we have pictures and information on our pups, but we also have "Rat Terrier" links galore. (webrings, training, associations, breeders, newsletters, personal pages and more). Come on in and browse around!
If you would like to see pictures of Rocky and Sassy's friends, just click here!
Our e-mail address is
feist2000@hotmail.com

FastCounter by LinkExchange

Best viewed in 800x600+highcolor with
Internet Explorer 4.0+



since I used



to create this site.
Some things will not show up without Internet Explorer 4.0+...
KEYWORDS used on this page: rat terrier, feist, Rocky, Sassy, Kansas City, mo, Missouri, teddy Roosevelt, squirrel dog, RCA Victor dog, rat, terrier, pet, small breed, rare breed, hairless, toy fox, arta, nrta, ukc, rtca, hunting, agility, tricolor, canine, K9, training, links, ratter, puppy, pup, earth, short hair, smooth, tick, ticked, obedience, ratterrier, ratters, teddy terrier, test, feist2000, humor, cartoons, Koehler, kishi, kioshi, keeshond, budo, michi, teddy, chow affiliated.org aacfinancial.com aacfinancial.tripod.com